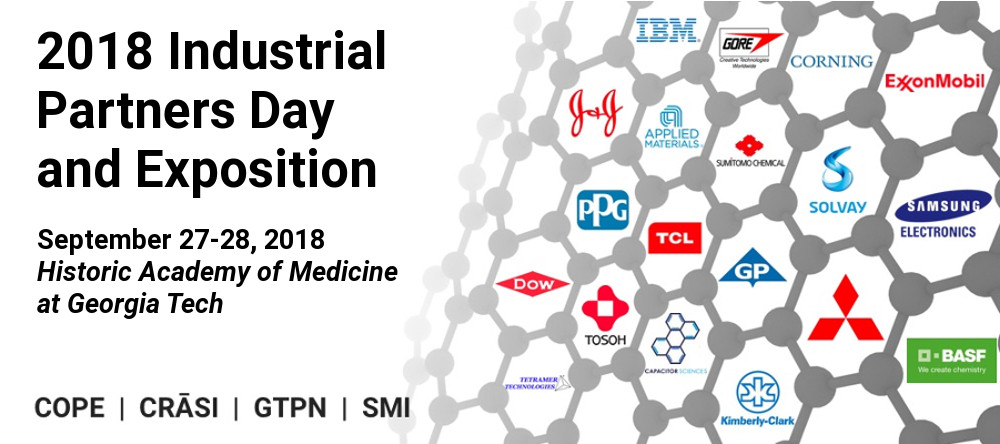 The 2018 STAMI Industrial Partners Day and Exposition features presentations by Dr. Gayle Schueller of 3M, Dr. Harald Roeckel of BASF, Professor Karen Gleason of MIT, Dr. Ganesh Sundaram of Veeco, and more.
The currently planned agenda is available here or in PDF format
Poster abstracts are available for Session 1 and Session 2 or as a PDF

Agenda Highlights
Thursday, September 27

Keynote Address: Prof. Karen Gleason, MIT
Introduction to STAMI Centers
Keynote Address: Dr. Gayle Schueller, 3M Corporation
New Faculty presentations
Student, Postdoc, and Research Scientist poster sessions and networking

Friday, September 28

Keynote Address: Dr. Harald Roeckel, BASF
Keynote Address: Ganesh Sundaram, Veeco
Presentations by Prof. Rampi Ramprasad and Prof. Baratunde Cola

Presentations
All registered attendees of the STAMI Industrial Partner's Day and Exposition are registered and invited to Keynote Presentations by Dr. Gayle Schuller of 3M Corporation, Prof. Karen Gleason of MIT, Dr. Harald Roeckel of BASF, Dr. Ganesh Sundaram of Veeco, and more. Georgia Tech faculty associated with STAMI will also be presenting and poster sessions with students, postdocs, and research scientists will allow attendees to gain a deeper understanding of critical research currently happening at Georgia Tech in advanced materials and interfaces.

Attending Companies
Advansix • BASF • Capacitor Sciences Inc. • Citrine Informatics • Eastman Kodak • Kimoto Tech • Konica Minolta Laboratory Inc. • Kimberly-Clark • Thomas Horstmeyer, LLP • And more

Attendee RSVP
About STAMI
The Center for the Science and Technology of Advanced Materials and Interfaces (STAMI) supports the activities of researchers across Georgia Tech for Creating the Next generations of advanced functional materials and interfaces. Learn more.